Underground: My life in SDS and the Weathermen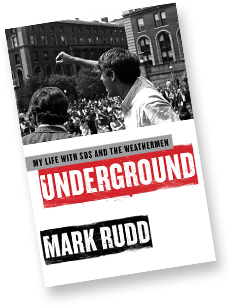 Published by HarperCollins.
Available at Amazon, Barnes & Noble and, especially, your local independent bookseller.
Read various reviews on the Reviews Page.
From the book jacket:
In 1968, Mark Rudd led the legendary occupation of five buildings at Columbia University, a dramatic act of protest against the university's support for the Vietnam War and its institutional racism. Rudd was the charismatic chairman of the Columbia chapter of SDS, Students for a Democratic Society, the largest radical student organization in the U.S. After a violent police bust, the Columbia occupation turned into a student strike that closed down the entire campus, turning Rudd into a national symbol of student revolt. Rudd went on to become the cofounder of the Weatherman faction of SDS which took control of the student organization and helped organize the notorious Days of Rage in Chicago in 1969.
But Mark Rudd wanted revolution.
Rudd and his friends sought to end war, racism, and injustice—by any means necessary, even violence. After tragic turn that lead to the death of three members, who were killed when the bombs they were making in a Greenwich Village townhouse exploded, they transformed themselves into the Weather Underground Organization. By the end of 1970, after a string of non-lethal bombings by the organization, Rudd, now one of the FBI's Most Wanted, went into hiding for more than seven years before turning himself in to great media fanfare.
In this gripping narrative, Rudd speaks out about this tumultuous period, the role he played in its crucial events, and its aftermath, revealing the drama and tension, as well as the naiveté of young activists, fighting in the name of peace and social justice, who believed that their actions mattered.
"I've spoken and answered questions at scores of colleges, high schools, community centers, and theatres about why my friends and I opted for violent revolution, and how I've changed my thinking and how I haven't, and most of all, about the parallels between then and now," Rudd writes. Powerful and shocking, Underground sheds new light on this controversial time that still haunts the nation.